The City and County of San Francisco ("CCSF") fired unvaccinated frontline heroes who selflessly served the public during the height of the pandemic

Thousands of vaccinated CCSF employees got sick with COVID after all unvaccinated employees were banned from all workplaces

Scientific Truth: COVID vaccines do not prevent infection or transmission

CCSF was dangerously understaffed and forcing vaccines on employees has worsened the problem leading to significant delays in emergency medical response, law enforcement response, and other essential public services
CCSF's vaccine policy is unconstitutional
It is crucial that we win against CCSF and set a solid legal precedent to prevent all California cities and counties from implementing these unconstitutional and inhumane vaccine policies in the future
If we lose in San Francisco, these tyrannical vaccine policies can be implemented again in the Bay Area and beyond
SAN FRANCISCO IS GROUND ZERO FOR MEDICAL SLAVERY
A big win in San Francisco is what we need to prevent future medical tyranny in all of California
As San Francisco goes, so goes California. As California goes, so goes America. As America goes, so goes the world.
We have several lawsuits against CCSF

We need your financial support for our most important lawsuit

We need to raise at least another $100,000 for this key lawsuit which is going ahead of all other lawsuits
This is our most crucial lawsuit because:

1. It is an effort to create new case law for California

2. It is based on the Constitution—not on exemption requests

3. It covers all City and County of San Francisco public employees—even those that did not make religious or medical exemption requests

4. It argues that a city and county government does not have the right to take away our rights and freedoms even during an emergency

5. It seeks declaratory and injunctive relief—not damages
Please consider making a generous one-time donation or setting up monthly recurring donations to help us!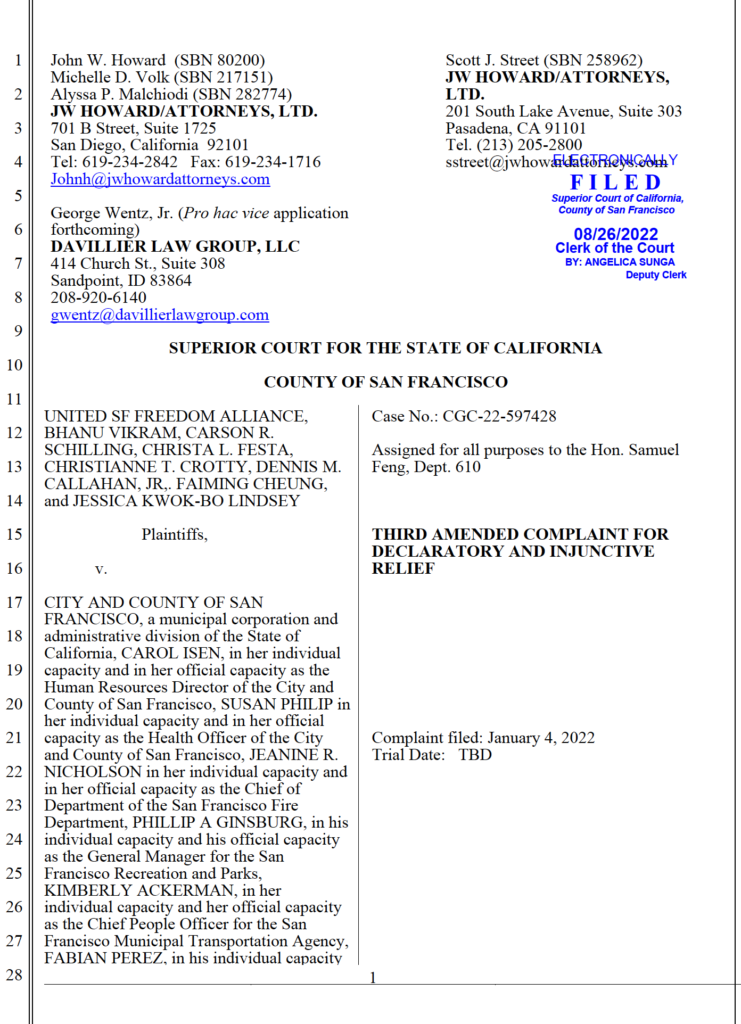 Our attorneys are the best! They are highly experienced and reputable. As but one example, they are also the lead attorneys in a couple of lawsuits filed by Robert F. Kennedy Jr for Children's Health Defense.

We won against two demurrers filed by CCSF in 2022!!! The trial for this lawsuit is scheduled for Jan 2024. We need to raise more funds as soon as possible.
The frontline heroes of San Francisco served the public during the HEIGHT OF THE pandemic from FEB 2020 to OCT 2021. Let's get them reinstated and create new case law FOR CALIFORNIA!
We appreciate your support from the bottom of our hearts
Important Note: Any donation made on the main PERK website will go to PERK's general fund and will not directly support our lawsuit. To support our lawsuit, please click any one of the red donation links on this page. If you do it correctly, the receipt sent to you via email will say Campaign: San Francisco Fundraiser. Thank you!