The City of San Francisco has fired unvaccinated frontline heroes who selflessly served San Francisco throughout the pandemic
Thousands of vaccinated city employees caught Covid after all unvaccinated employees were banned from all workplaces
Dr. Simone Gold spoke in front of the San Francisco City Hall on Sep 18, 2021
Scientific Fact:
Covid-19 vaccines do not prevent infection or transmission
"What the vaccines can't do anymore is prevent transmission." —Dr. Rochelle Walensky, CDC
"We know now as a fact that [vaccinated people with Covid-19] are capable of transmitting the infection to someone else." —Dr. Anthony Fauci, NIAID
The City of San Francisco is dangerously understaffed and forcing vaccines on employees has worsened the staffing shortage in all city departments
The City and County of San Francisco has broken state and federal laws—not to mention the vaccine policy is unconstitutional
We now have several lawsuits against the City and County of San Francisco.
It is crucial that we win in San Francisco and set legal precedents…
If we lose in San Francisco, these unconstitutional vaccine policies will gradually spread to the entire Bay Area and the rest of California
A big win in San Francisco will help prevent medical tyranny in all of California and beyond
"As San Francisco goes, so goes California. As California goes, so goes America. As America goes, so goes the world."
SAN FRANCISCO IS GROUND ZERO FOR MEDICAL FREEDOM
We are paying for our lawsuits ourselves and through fundraisers
In particular, we need to raise another $100,000 for this key lawsuit that is going ahead of all other lawsuits
We need your help to establish medical and civil rights in San Francisco 🙏
Would you please consider making a generous one-time donation or setting up a monthly recurring donation to help us?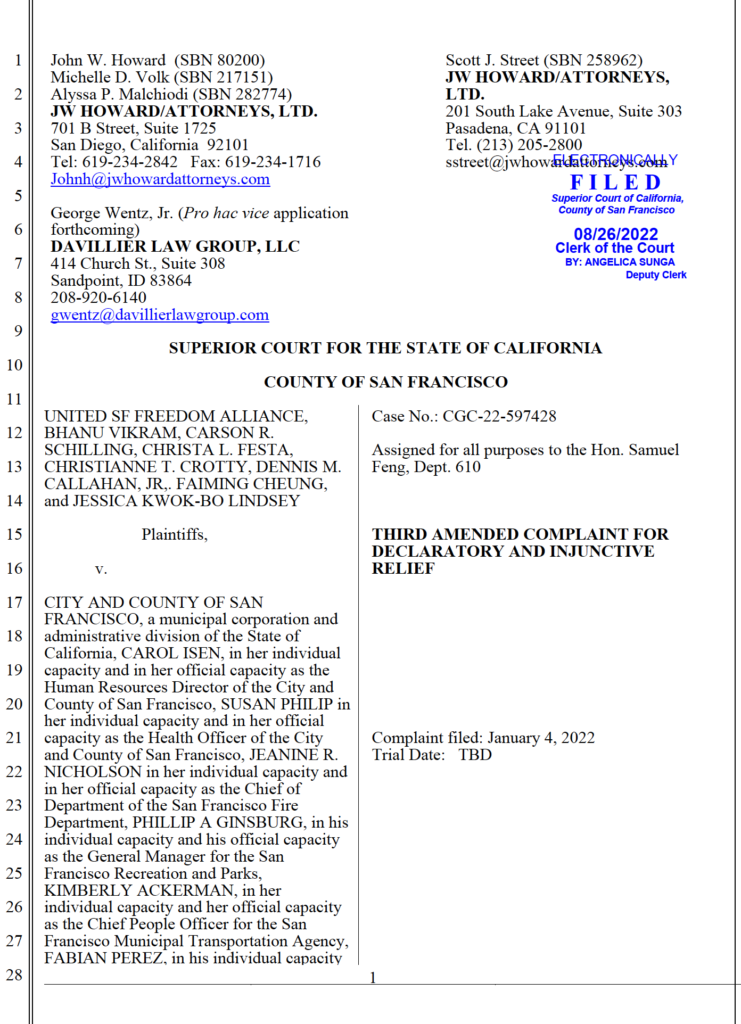 The Superior Court of San Francisco overruled the City and County of San Francisco's demurrer against our lawsuit in August 2022, which is a spectacular victory for freedom lovers everywhere!!!

But the City has filed another demurrer and we need all the help we can get to cover our legal bills!
SAN FRANCISCO IS GROUND ZERO FOR MEDICAL FREEDOM
All donations made on our fundraising page are collected by America's Frontline Doctors and used to pay legal costs for this important lawsuit
We appreciate your support from the bottom of our hearts!!!
SAN FRANCISCO IS GROUND ZERO FOR MEDICAL FREEDOM
Thank you!
FAVORABLE RULINGS
FROM AROUND THE COUNTRY